Rioters who were jailed faced attacks by other inmates

Young offenders entering system fuelled gang culture inside while suicide watch numbers soared, says prisons inspector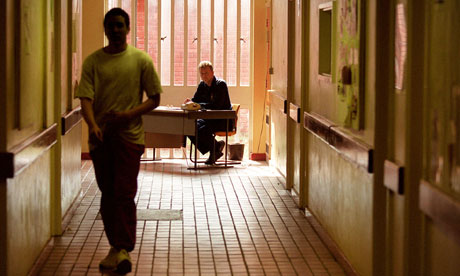 Young people charged with riot offences were attacked in at least one youth jail in the aftermath of this summer's disturbances, the chief inspector of prisons has disclosed.
Nick Hardwick said the influx of more than 1,000 prisoners into the jail system in England and Wales fuelled the gang culture inside prisons and actually drew some young people into a violent culture for the first time. Some were attacked, he said, because prisoners had witnessed their home neighbourhoods under attack on television.
The number of prisoners on suicide watch increased by 200% due to staff concerns about the new arrivals.
He also confirmed that a "copycat riot" happened in an over-18s gym at Feltham, but fears that it would spread to younger teenagers proved unfounded.
The conclusions are published in a report by the chief inspector of prisons after an inspection carried out on September 12 to see how Feltham young offenders institution in west London coped with the sudden influx of those remanded on riot charges.
Hardwick said Feltham had to cope with 60 new arrivals in the week after the riots, the number it usually received in a month. At the same time 70 people were moved out to Hindley young offender institution near Wigan to make room for further riot arrests.
The process continued for several more weeks as the young offenders institute was given the task of moving the young offenders behind bars to other jails, to make way for those being freshly charged with riot offences.
The chief inspector said the young people at Feltham were negative toward those involved in the riots as they felt they were responsible for the transfer of their friends to other prisons: "They had seen their homes areas attacked on television and were worried about family and friends there," said Hardwick.
He said the rioters were dispersed across units to avoid altercations as there had already been attacks on those involved in the riots and this was now the primary cause of fights. Restraint had risen slightly, but it was no longer mainly to prevent group fights, but to separate individuals.
"Young people on different units had formed themselves into gangs and there had been fights between units. This included those who had not been involved in gangs in the community before and who had become part of the unit gang to protect themselves,"said Hardwick.
"This was a change to the situation identified during the [previous] inspection [in July] when the task had been to keep known gangs – and particularly those from different postcodes – apart." He said this atmosphere led to a 200% increase in the number of new young inmates on suicide watch.
Michael Spurr, the national offender management service chief executive, said that at the time of the inspection Feltham was adapting to cope with a higher sentenced population of young people than previously. He said that the July inspection report acknowledged that the youth jail was fundamentally safe and recognised the work going on to tackle gang issues.