Abu Qatada appeal halts deportation
Radical cleric's lawyers thwart home secretary with 11th-hour appeal to European court of human rights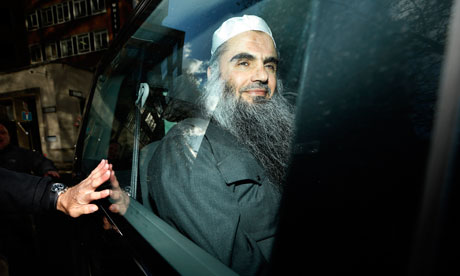 Abu Qatada's deportation has been put on hold, in an acutely embarrassing development for the home secretary. Photograph: Matt Dunham/AP
The European court of human rights has dramatically put the deportation of Abu Qatada on hold less than 24 hours after it was ordered by the home secretary, as it emerged that the cleric's lawyers had lodged an 11th-hour appeal.

Theresa May ordered the arrest and detention of the radical Islamist on Tuesday in the belief that the final deadline had passed for appeals to be lodged against the original Strasbourg ruling.

But a European human rights court spokesman has confirmed to the Guardian that they believe the deadline was actually Tuesday midnight and not Monday night as was assumed by the Home Office.

"We did receive a referral to the grand chamber from the applicant at 11pm and it will be decided by a panel of judges at a date to be fixed," said an ECHR spokeswoman. She confirmed that the effect was that a legal injunction against Qatada's deportation to Jordan remains in force until the outcome of the appeal.

Qatada's lawyers have appealed against the original Strasbourg ruling in January on the grounds that it was wrong to decide that he would not be at risk of torture if he was sent back to Jordan.

The decision is acutely embarrassing for the home secretary, who promised the Commons on Tuesday that the radical Islamic cleric would soon be on a plane out of the country.