Strasbourg judges rule indeterminate sentences unlawful
European court of human rights rules against open-ended sentences being served by 6,000 prisoners in England and Wales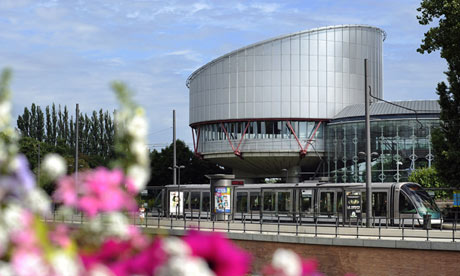 The European court of human rights judges said inmates serving indeterminate sentences had no realistic chance of accessing rehabilitation courses. Photograph: Johanna Leguerre/AFP
The European court of
human rights
has ruled "arbitrary and unlawful" the "open-ended" indeterminate sentences for the protection of the public (IPPs) currently being served by more than 6,000 prisoners in England and Wales.
The Strasbourg judges said the prison system was "swamped" by IPP prisoners without a fixed release date after its introduction in 2005 and the inmates had "no realistic chance" of accessing the rehabilitation courses they need to qualify for release.
The unanimous ruling by seven judges, including the British judge Nicholas Bratza awarded up to €8,000 (£6,500) compensation to three IPP prisoners, Brett James, Nicholas Wells and Jeffrey Lee, who have been held up to two years and 10 months longer than the original recommendation of their trial judge. They were also awarded €12,000 costs each.
All three were given IPP sentences after being convicted of violent offences in 2005 and ordered to serve a minimum "tariff" of two years, 12 months and nine months respectively. James, from Wakefield, has now been released as has Lee, who lives in Fleetwood. Wells is still in prison.
The ruling published on Tuesday said that the court found the "considerable delays in the applicants making any progress in their sentences had been the result of lack of resources, planning and realistic consideration of the impact of the
sentencing
scheme introduced in 2005". This was despite the fact that it had been introduced on the understanding that rehabilitative treatment would be made available to those prisoners concerned.
The European judges note that the problems with IPP prisoners were the subject of "universal criticism" in the British courts and had led to rulings that the justice secretary had breached his public law duty.
The detail of the ruling says that the three inmates who brought the case had been simply left in privately-run local prisons for two and half years where there had been few, if any, offending behaviour programmes.
"The stark failure consequence of the failure to make available the necessary resources was that the applicants had no realistic chance of making objective progress towards a real reduction or elimination of the risk they posed by the time their tariff periods expired," says the ruling.
"Moreover, once the applicants' tariff had expired, their detention had been justified solely on the grounds of the risk they had posed to the public and the need for access to rehabilitative treatment at that stage became all the more pressing," it adds.
The judges said that in those circumstances their detention had been "arbitrary and therefore unlawful".
The IPP sentence is due to be replaced by a new "extended determinate sentence" later this year but it has not yet been introduced. It will not apply to more than 6,000 existing prisoners in jails in England and Wales whose release dates are to be decided on a "case by case" basis by the Parole Board.
The Ministry of Justice has three months to consider whether to appeal.