Jailhouselawyer's list of Tory paedophiles given to Cameron by ITV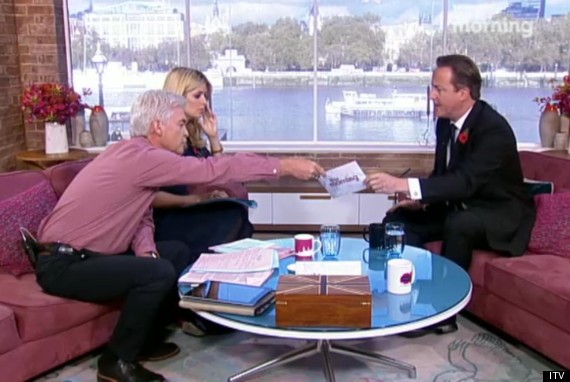 David Cameron Handed Paedo List By Phillip Schofield Live On ITV's This Morning
David Cameron was ambushed live on TV on Thursday morning when he was handed a list of alleged Tory paedophiles linked to the sexual abuse of boys in care.
Appearing on ITV's This Morning, the PM was shown a list of names by presenter Phillip Schofield that have been circulating online.
Cameron, who was unprepared for the question and did not look at the list, replied: "I am worried this could turn into a witch hunt against people who are gay.
"I've heard all sorts of names being bandied around and what then tends to happen is that everyone sits around and speculates about people some of who are alive and some of who are dead," he said.
"I do think its very important that anyone who's got any information about any paedophile no matter how high up in the country or whether alive or dead go to the police. This is very important."
He added: ""There is a danger if we are not careful that this can turn into a sort of witch hunt, particularly about people who are gay, and I'm worried about the sort of thing you are doing right now, taking a list of names off the internet."
However Schofield's dramatic questioning technique appeared to backfire on ITV after some of the names were clearly visible to viewers, which could cause a legal nightmare for the programme.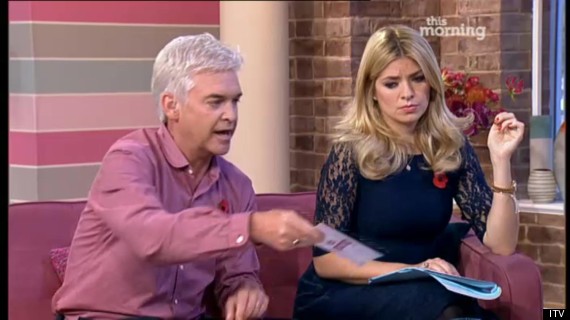 Downing Street said it was a "silly stunt" that had led to people's names being revealed. "They will want to vigorously defend themselves," a spokesperson told the Daily Mail.
Cameron also ruled out holding a "mega inquiry" into abuse rather than multiple investigations.
"I think the real question is, would that help us get to the truth any quicker. I'm very anxious that the BBC finds out what went wrong that allowed Jimmy Savile to do all those things over so many years," he said.
"I think the fastest way of that happening is with the former judge that they've got doing that investigation.
"I want to find out what happened in north Wales. The fastest way of finding out is with the judge that I've appointed.
"The idea that if you had one mega inquiry that you'd speed everything up, I'm not sure this is true.
"I don't rule out taking further steps. I want the Government to be absolutely on top of this, I don't want anything to be covered up. If there are more things we have to do, we will do them."
The government has
ordered an inquiry
into allegations that a senior Thatcher-era Tory political figure sexually abused children, and that it was covered up.
The move came after the BBC's Newsnight programme broadcast allegations that the man was part of a paedophile ring that abused boys from the Bryn Estyn care home in North Wales during the 1970s.