Foreign national prisoners do not deserve blanket judgments
Number of foreign national prisoners in the UK are increasing. From April 2013, they will not be able to access free legal advice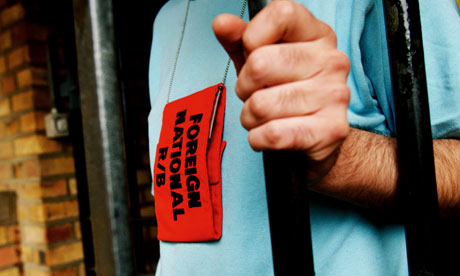 "Super-selectivity" is the kind of concocted word beloved of politicians and policy wonks. I hadn't heard it until a couple of weeks ago when Rob Whiteman, chief executive of the UK Border Agency (UKBA), used it to describe the government's immigration policy at the Detention Advice Service's 20th anniversary conference.
Whiteman argued that, within this newly labelled policy, foreign national prisoners were regarded as a specific category of people who really, really should be deported – presumably, super-super-selectivity. He was referencing a speech earlier this year by then immigration minister Damian Greene to the Conservative think-tank Policy Exchange when the minister talked of super-selectivity or (in the alternative) "double-plus selectivity" (yes, seriously).
In the context of the 10,861 foreign nationals in our prisons, "super-selectivity" means one thing: "you're not staying here". Such blanket judgments – treating a class of people as "a homogenous mass" as Juliet Lyon, director of the Prison Reform Trust, neatly put it at the conference – need to be challenged.