Prisoners sign up for law degrees

Legal degrees are proving popular with prisoners and ex-convicts – but can they ever become solicitors?

Joanna Moorhead, guardian.co.uk, Monday 25 April 2011 17.30 BST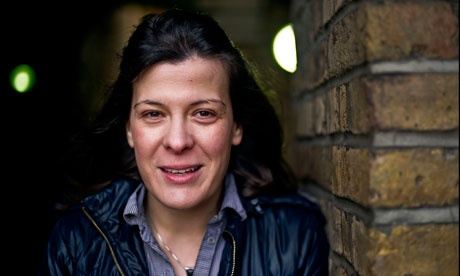 Ana Ruiz, a former offender, is in her final year of a law degree. Photograph: Sarah Lee for the Guardian
Like many students, Malcolm Sang, who is working towards a law degree, spends hours poring over his books. But when it comes to some aspects of his studies, the reality of what he's working on is very close to home – because he is in jail, serving a life sentence for murder.
And if his subject is unlikely, his educational past is, too: because when Sang was convicted, a decade ago, he hadn't a single GCSE to his name. "Malcolm was kicked out of school at 13," explains Jude, his mother (as he's a prisoner, Sang isn't allowed to give interviews, but he has given her permission to tell his story). "It wasn't until he found himself inside that he went back to studying. He passed GCSEs in English and maths and then got an A in A-level English."
Sang's decision to pursue a distance-learning degree in law at Nottingham Trent University was partly motivated by his disillusionment with the law. He believes he should have been convicted not of murder, but of manslaughter, as his co-defendant was.
Now 30, Sang is an inmate at Verne prison in Portland, Dorset – but when he started his degree, he was in another prison and staff there tried to dissuade him from enrolling. "They said law wasn't a suitable subject for a prisoner to study. But there's no reason why not, and he was determined to do it," says his mother.
Sang's funding came from the young people's charity The Longford Trust, named after the Labour peer and prison reformer, which since 2004 has offered scholarships to current and former convicts who want to study for a degree. But what the trust has come to realise, explains its director, Peter Stanford, is that prisoners like Sang aren't alone: law is a subject that prisoners often feel particularly drawn towards; so much so, that the Longford Trust decided to establish a new batch of awards aimed at enabling prisoners to study law. The Patrick Pakenham awards are named after Lord Longford's son, a barrister who died in 2005, and they offer practical, emotional and psychological support to students during their time at university.
"In many ways it's entirely understandable why prisoners who get involved in education should feel drawn to law as a subject," says Stanford. "They're far more likely to want to study law than they are to be drawn to, say, English or classics or history – these subjects aren't going to have the same relevance for them that they do for young people coming out of school, who have maybe had more advantages in life than many of those who end up in jail."
Another law student who has had personal experience of being on the wrong side of the law is Ana Ruiz, who was convicted of drug dealing eight years ago. "Being sent to prison is a crushing blow to anyone's self-esteem – you think you're worthless, you feel excluded," she says. "Starting to study makes all the difference, because you realise you can achieve something."
Ruiz, who is 33, is in her final year of a law degree that she started in 2007, having been released from prison the previous year. She hopes to become a solicitor, specialising in environmental law. "I feel very strongly about these cases, and I'd love to make working on them my future."
Maria Aristodemou, a senior law lecturer at Birkbeck College, where Ruiz is studying, says students who have direct experience of being caught up in the criminal justice system often have fascinating insights to share in seminars and tutorials. "At many universities, though not at Birkbeck, many students have come straight from school and have no experience like this – so someone who can talk from personal experience can be really interesting for them," she says.
"But there is a downside, too, which is that people who've been in this situation can sometimes be quite opinionated and stubborn – they're entrenched in their own experience, and they're unable to see the wider picture. You start to feel that what they're unpacking in a seminar would be better unpacked on an analyst's couch, and it can be hugely time-consuming for everyone else.
"But certainly in the long term, those who stay the course and maybe go on to work in the legal system will be able to relate to defendants in a way that many lawyers maybe can't, and that has to be valuable."
One anxiety for people like Ruiz and Sang – who would also like to work as a solicitor eventually – is that they may never be able to make the leap from one side of the courtroom to the other, despite having studied hard for their degrees. That's because they fear that the Solicitors' Regulation Authority (SRA), part of the Law Society, won't sanction their applications to work as solicitors. "I understand their worries, because certainly on past experience the Law Society has been reluctant to admit people who've been convicted of crimes to the solicitors' course," says Stanford.
According to Diane Lawson of the SRA, every application for admission to the solicitors' course is evaluated on merit – but there are concerns. "The overriding consideration is public protection," she says. "The type and number of convictions are taken into consideration, and applicants have to provide evidence of rehabilitation.
"It's quite understandable that someone who'd been exposed to the legal system may have a great interest in pursuing legal studies. However, the SRA has an obligation to build public confidence in our legal system and has to ensure that all entrants to the profession meet the requirements for competence and conduct."
But some prisoner law students have already put their learning to practical use. "Gary", who can't be named for legal reasons, served three years of a six-year sentence for rape. Like Sang, he became interested in studying law partly because he felt he'd been the victim of injustice. "When I was convicted, I was disqualified from seeing any children including my own – but when I read up on what the law actually said, I discovered it shouldn't have happened in my case.
"I lodged an appeal and represented myself – and I got the disqualification overturned. I was very nervous, but I knew I could do it. The judges took 10 minutes to reach their decision, and winning really spurred me on to study law. It made me realise how brilliant it is to be able to argue a case in a court of law – it made me determined that this was what I'd like to do."
And when he got back to prison, there was a long queue of fellow inmates all waiting to see him. "They wanted me to work on their appeals for them. My nickname became "the QC"; even some of the prison guards came to see me, to ask advice about their divorce cases.
"You need a lot of books to study law, and when I was inside, it was difficult to get them. Eventually, I decided to write to every judge, barrister and solicitor I could find, asking them to donate books they didn't need any more. Lots of them did – in the end, I had 40 or 50 books, so many that I had to be moved to a bigger cell!"
Gary is now out of prison and continuing the law degree. Like Sang and Ruiz, he hopes to practise as a solicitor. "I'd like to work in criminal and family law," he says. "I don't feel the lawyers I encountered served me as well as they should have done. I want to be a better lawyer for some other defendant in the future."