The World of the News
News of the World towers finally tumbled under the pressure of the phone-hacking scandal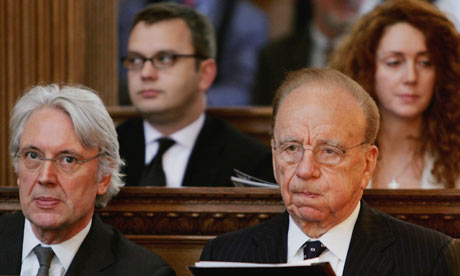 Les Hinton, Rupert Murdoch, Andy Coulson and Rebekah Wade/Brooks in the dock over Murdoch-gate
In seeking to control a primitive people it's all about perception and deception. So-called civilisation has progressed from witch doctor to spin doctor.
It has been claimed that the 3 pillars of democracy are the press, the police and the government. Like the crumbling pillars of the News of the World towers above, Murdoch-gate has shown that the 3 pillars of democracy have been damaged. Corruption has weakened the foundations upon which the media, police and government rests.
If David Cameron cannot speak to the people without employing a communications director to do the talking for him, then he is not a fit and proper person to be Prime Minister.
Murdoch pulling the strings of David Cameron and Jeremy Hunt
Once again the new media has changed the rules and or the game itself.
Murdoch: the network defeats the hierarchy