Iraqi prisoners win court battle for inquiry into mistreatment claims

UK military faces judge-led inquiry into detentions and interrogations after appeal court rules in favour of 140 Iraqis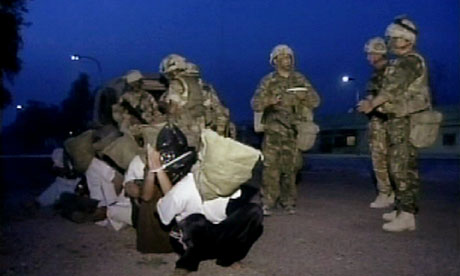 More than 140 Iraqis who were imprisoned by British troops in the years following the 2003 invasion have won a court of appeal battle for a public inquiry into their allegations that they were subjected to serious mistreatment.
Lawyers for the men successfully argued that a Ministry of Defence investigation now underway was substantially compromised because some of its investigators served with a military police unit responsible for their detention.
The decision could pave the way for a full public inquiry into the British military's detention and interrogation practices in south-eastern Iraq during the five years that troops were based there.
A previous inquiry into one detention operation that led to several men being tortured and one, Baha Mousa, dying after suffering 93 separate injuries, concluded that there was "more than a hint" that such mistreatment of detainees was more widespread among British army units in Iraq.
The MoD has accepted that the Iraqis who brought the appeal – most of whom were civilians – have an arguable claim that they were tortured or suffered other forms of inhumane treatment, and that this may have been in breach of the European Convention on Human Rights.
The court ruled on Tuesday that the defence secretary, Philip Hammond, must now find a way of meeting the government's obligations under the convention, which demands an impartial investigation of any systemic aspects of abuse.
An MoD spokesman said: "We note that the court of appeal has not ordered a public inquiry but has asked the defence secretary to reconsider how to meet the investigative obligations. We will examine the judgment very carefully and consider next steps."
The MoD has until the end of the month to lodge an appeal with the supreme court.
The Iraqi men's solicitors, led by Phil Shiner, a Birmingham based human rights lawyer, documented more than 60 allegations of detainees being hooded, 11 of electric shocks, more than 120 of sound deprivation through the use of earmuffs, more than 50 of sleep deprivation, 160 of sight deprivation - including 117 using blackened goggles - more than 130 of the use of stress positions, 39 of enforced nakedness and 18 that detainees were kept awake by pornographic DVDs played on laptops.
Many of the allegations centre on a secretive army Intelligence Corps interrogation centre known as the Joint Forward Interrogation Team (JFIT), where suspected insurgents or men thought to be loyal to Saddam Hussein's deposed regime were taken for questioning. Other allegations relate to detention facilities used by other military formations.
Some of the events at JFIT were captured on video after senior officers ordered in 2005 that interrogation sessions should be recorded. More than 2,500 videos are thought to have been recorded, and at least three interrogators have now been referred to military prosecutors with a recommendation that they consider war crimes charges.
There is some evidence that years after the death of Baha Mousa, JFIT was still training military interrogators in abusive techniques, including some that were in breach of the Geneva Convention.
In March last year, in the face of a legal challenge that threatened to result in the MoD being forced to mount a major public inquiry, the department established a group of investigators in what is known as the Iraq Historic Allegations Team (IHAT).
The group, which is currently around 80 strong, is investigating a number of unexplained deaths in British military custody, as well as the torture allegations.
Around half are retired former civilian detectives, led by the former head of Staffordshire CID Geoff White. Around half, however, are members of the Royal Military Police, including members of a unit called the Provost Branch, which had been involved in detaining prisoners in Iraq.
The court said this meant that "Provost Branch members are investigating allegations which necessarily include the possibility of culpable acts or omissions on the part of Provost Branch members". Lord Justice Maurice Kay, the vice-president of the court of appeal's civil division, sitting with Lord Justice Sullivan and Lord Justice Pitchford ruled that as a result "the practical independence of IHAT is, at least as a matter of reasonable perception, substantially compromised".
Furthermore, IHAT answers to a panel that is headed by a senior MoD civil servant and includes individuals responsible for army discipline, and which is itself compromised, according to the court. "It comprises representatives of the three bodies – the Ministry of Defence, the army chain of command and the Provost Branch – which would be vulnerable to criticism if the case on systemic abuse is established."
Defence officials say the judgment has thrown into doubt the entire future of the military police, and that any future investigation into any allegation of abuse by British troops - in Afghanistan or elsewhere - will need to be carried out by another body.
The MoD is considering whether it can respond to the appeal court's judgment by reconstituting IHAT without any military police members.
However, if the future of the Royal Military Police, and the provost branches of all three of the armed forces were at stake, then it would appeal.
Shiner insisted that the only proper response would be a judicial inquiry into the UK's detention policy in south-east Iraq. "It is something we have been calling for since 2004," he said. "The MoD has deployed every dirty trick in the book to prevent accountability for the hundreds of torture and unlawful killings cases of Iraqi civilians. Now it has nowhere to hide."
Redress, a London-based NGO which helps victims of torture worldwide, was one of the interveners in the case and said the government would now have to decide how to comply with the need for an inquiry "which is independent, effective and reasonably prompt".
In a reference to the government's plans to introduce legislation that would result in evidence of the state's involvement in torture being heard by the courts only when sitting in secret, Shami Chakrabarti, the director of Liberty, said: "Yet again victims of torture look to our open and independent court system for answers and hope that others won't have to suffer in the future. British courts are admired the world over. The government should be proud of this and wary of doing anything that makes justice less transparent in national security cases."
Another public inquiry, which has still to get under way, is to look at allegations that up to 20 Iraqis were unlawfully killed or mistreated during one night in a detention facility in May 2004 - an allegation that the MoD denies.