Abu Qatada applies to be freed on bail
Islamist cleric could be released on stringent conditions while courts take months to settle issue of deportation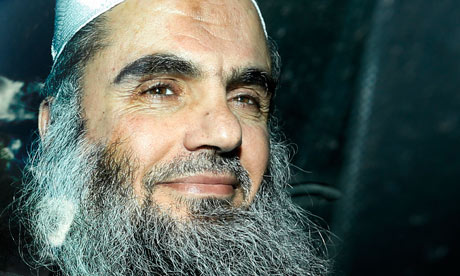 The radical Islamist cleric, Abu Qatada, who faces deportation to Jordan as a national security threat, is to apply to be freed on bail at the end of the month.
The Judicial Communications Office said that the date for Qatada's bail hearing had been set for 28 May at the special immigration appeals commission in London.
Qatada, whom a Spanish judge once described as Osama bin Laden's right-hand man in Europe, was briefly freed in February on the most draconian bail conditions ever imposed, including a 22-hour curfew.
But he was re-arrested and returned to a maximum security prison in April when the home secretary, Theresa May, ordered a new attempt to send him back to Jordan.
The attempt was made hours before Qatada's lawyers lodged an appeal to the Strasbourg human rights court, which then blocked his removal.
The pre-emptive move by the home secretary prompted a Westminster row with claims that she had got the date wrong over when the deadline for appeals against his removal had expired.
However the European court of human rights rejected that appeal last week clearing the way for a renewed attempt to send him back to Jordan.
The home secretary, who has secured assurances from Jordan that he will not face a trial based on evidence obtained by torture, has acknowledged that it will now be up to the British courts to settle matter – a process likely to take months rather than weeks.
There is a possibility that Qatada, who has already spent more than six years in detention in Britain as an international terror suspect, could be freed once again on draconian bail conditions if there is no immediate prospect of his removal.