Colin Hatch, child sex strangler, killed in prison cell

Another inmate arrested as murder suspect after death of serial sex offender who murdered Sean Williams, 7, in 1994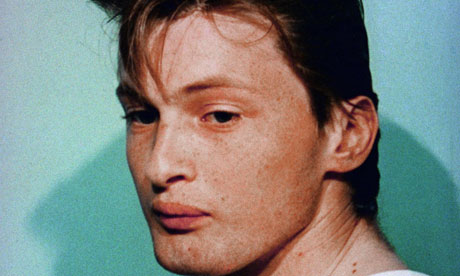 Colin Hatch in a police photograph from 1994. The killer of Sean Williams has been found dead in prison - police have arrested another inmate as a murder suspect. Photograph: Press Association
Police are investigating as murder the death of Colin Hatch, one of Britain's most notorious child sex killers, in his cell at a high security jail.
Staff at Full Sutton prison near York said the 38-year-old had died after an "incident".
Humberside police have arrested another inmate and launched a criminal investigation.
A police spokesman said: "A 38-year-old male prisoner died in the incident. A 35-year-old male prisoner has been arrested on suspicion of murder. Humberside police are working with the prison service and investigating the incident."
Hatch was given a life term in 1994 after he murdered a seven-year-old boy while on parole for a previous child sex attack. Sentencing him at the Old Bailey, Judge Nina Lowry referred to a series of other assaults and said that it was not possible to envisage a time when the "highly dangerous" paedophile might be released safely.
She told him: "As of today life imprisonment should mean what it says. In my judgment you should never be released back into the community while there remains the slightest danger you will reoffend."
Hatch, who was 21 and jobless at the time, smirked after the jury convicted him of murder. He had been jailed for three years in 1992 for choking an eight-year-old until he almost lost consciousness in a sexual attack.
The judge in that case sentenced him to three years, the maximum permitted under the law. It was suggested that he should be admitted to Broadmoor after evidence of a string of attacks on boys since he was 15, but medical staff at the secure hospital did not consider that he was dangerous enough.
The body of Hatch's murder victim, Sean Williams, was found wrapped in bin liners and dumped in a lift at the tower block in Finchley, north London, where Hatch lived at the time. The boy's parents, Lynn and John Williams, criticised the parole board, probation service and doctors who treated Hatch in prison. After his conviction they said: "Never again must a family have to suffer this experience and never again must Colin Hatch be released back into our community."
Detective Superintendent Duncan Macrae, who led the murder inquiry, called Hatch "a frighteningly cunning criminal who had pulled the wool over the eyes of the authorities and would kill again if he was ever released."
Two days ago three prisoners on life sentences were jailed for a vicious knife attack on a Serbian war criminal at Wakefield high security prison, 30 miles from Full Sutton.