Does prison work?

Are the courts sending too many offenders to jail? Reformer Juliet Lyon believes custodial sentences should be the last resort, but MP David Davies wants more of them

Interview by Oliver Laughland
guardian.co.uk, Friday 12 August 2011 22.14 BST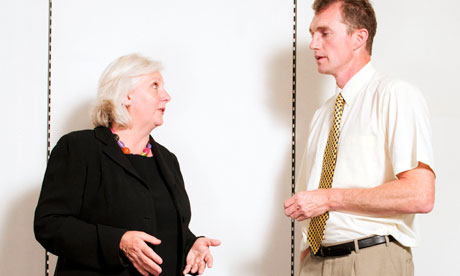 David Davies MP and Juliette Lyon from the Prison Reform Trust discuss the prison system. Photograph: Linda Nylind for the Guardian
As courts across England continue to process thousands of charges relating to this week's riots, Oliver Laughland brings together Juliet Lyon, director of the Prison Reform Trust, and hardline sentencing reformer David Davies MP to discuss the pros and cons of imprisonment.
David Davies: Prison is the most effective way of dealing with criminality. In terms of these riots, although it's too early to see exactly what's happened, as a rule violent criminality of this sort should result in prison sentences.
Juliet Lyon: But we know that it isn't the most effective. It works getting people off the streets, but when you look at re-conviction rates, you see that now around two thirds of people on short sentences re-offend again within one year. With younger people, it's three quarters. This is not an acceptable rate and it doesn't say to me that prison is working in a way that all of us expect.
DD: I think we both agree that short-term prison sentencing is ineffective but the figures Ken Clarke doesn't quote so often show that prison sentences of over a year are more effective in reducing re-offending rates than any other method.
JL: But that's because they're for people who've committed different crimes. Prison should be used appropriately and sparingly, because as well as holding people securely and safely, it does harm. When you lock somebody up you reduce their contact with family, make them less employable. Former prisoners find it hard to make their way into society. Once you've been to prison, you will see yourself as a former prisoner, and that often means a high degree of shame.
DD: Not in my experience. I've also met a lot of people who have been through the prison system in my other role [as a special constable with the British Transport Police] and one of the things that struck me is that they don't have any sense of shame at all. I went to arrest somebody recently and the charge against him was robbery with GBH. There was no shame from him – it was more of an inconvenience.
JL: But we're in danger of coming into generalities – you're saying "these people". I'm saying some people experience shame. I'm using this as an example, not to say we shouldn't use prison, but to say if there is something else that can be used, that will be more effective. Community sentences are 7% more effective than a short prison sentence, according to ministry of justice figures.
DD: I went to see community sentencing in action a few years ago, and the people running it were the people doing that sentence. What stuck in my mind was when one of the young people turned round to one of his workers and said: "Oi, you! Where's my fucking lunch? Go and get it." She duly went off and got it. I was going there as a member of parliament; people usually try and make sure things work. It was an absolute disaster.
JL: Why is it in your interest not to have a community sentence working? Would you be pleased if community sentences became more effective?
DD: They'd have to become a lot more effective, because when you're taking somebody off the streets, you're removing the problem, and that gives the police the opportunity to go out for other people; it gives the residents respite. If you ask people whose lives are being made a misery if they were to prefer community sentences or prison sentences, they'd say prison.
JL: But if you were to show them that community sentences are working much better, like the schemes in Manchester, which are delivering splendid results … would you welcome that? You're saying no, you wouldn't.
Oliver Laughland: Does community sentencing work in a situation like we have at the moment, where people rioting have shown a disregard for their local communities?
JL: I think what we have at the moment is exceptional and terrible. I don't think anybody is going to say that that situation doesn't have to be brought under control.
DD: Would you be happy with prison for the rioters?
JL: I think that's a matter for the courts.
DD: But hang on. We're here discussing whether prison is appropriate and I would say it absolutely is, but what do you think?
JL: I think it's appropriate to lift people off the streets and to hold them until they can go to court, and I think we're reliant on an independent judiciary on our behalf. But if any of the crimes fall into the category of serious and violent, which clearly many of them do, then of course that will have to be the punishment.
DD: Let me throw you a question back. I would say to anyone who's arguing from your perspective: if you want to bring in a tough community sentence that'll be really effective, that's great. We'll have a go at that. But if a so-called "tough community sentence" doesn't work, will you be prepared to allow and encourage the courts to sentence the person to a longer term in prison?
JL: I'm not as preoccupied with prison as you are. I'm more interested in how you cut crime.
DD: I think there ought to be mandatory two-year sentences for people under a "three-strikes-and-you're-out" rule, no matter what the offence is.
JL: Well, you know they've used that in parts of the US and it's led to extraordinary overcrowding. In the mid-90s we had a prison population of around about 40,000; today we've got 85,000. There hasn't been a rise in crime that would justify that incredible hike in prison numbers. We spend a lot of money on prison when we could be investing in other public services, and the solutions to crime don't all lie in the criminal justice system. Many lie in preventing children and young people from getting in to trouble in the first place. We have got a vicious cycle in this country where, during their school years, 7% of children experience their dad going to prison – that's remarkably high. If you doubled the size of the prison population, you'd essentially you'd be doubling the problem. The problem is we've overused custody to the point that we've now got a veritable army of former prisoners coming out, ready to offend again, because prison isn't working to cut offending.
DD: I don't want to see people thrown into a cage. I'm not a person who thinks we should go back to Dickensian times. What I'm saying is this: you need two years inside, make it a college with walls around it, make it clear they can have the TV, the games console and the rest of it, but that they'll be expected to do six to eight hours of work – targeted at them, work like basic maths and literacy, some vocational skills, stuff that will really give them a chance when they come out. This idea that somehow serving time in the community is more helpful is just rubbish, because it presupposes that they'll just go off and join the Rotary Club and the parish community council, and that's not happening.