Jailed blogger Prisoner Ben faces 11th Parole Board hearing
John 'Ben' Gunn, who has served 20 years beyond his original tariff, given backing from Michael Gove and Baron Ramsbotham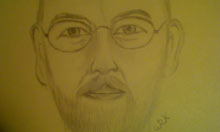 Britain's only blogging prisoner will face a Parole Board hearing tomorrow to ask to be released after serving 20 years beyond his original tariff.

John "Ben" Gunn, 45, known to his readers as Prisoner Ben, was just 14 when he unintentionally killed a friend from his children's home in a fight. At the trial in 1980, the judge ordered him to be detained at Her Majesty's pleasure and gave him a tariff of 10 years as a reflection of both his age and remorse – after the attack, he phoned the police, waited till they arrived, and confessed immediately.

During his 30 years in jail, Gunn has made himself unpopular with the prison authorities by peacefully fighting abuses of power within the system, documenting them in a blog that he keeps with the help of a friend from the outside world.

His parole application is backed by some influential people, including the education secretary, Michael Gove, who last month asked his justice counterpart, Ken Clarke, to look into the case.