Phone-hacking scandal: Andy Coulson 'listened to intercepted messages'
Anonymous source tells Channel Four David Cameron's media adviser would ask for recordings to be played for him at News of the World
Nick Davies
guardian.co.uk, Sunday 3 October 2010 16.23 BST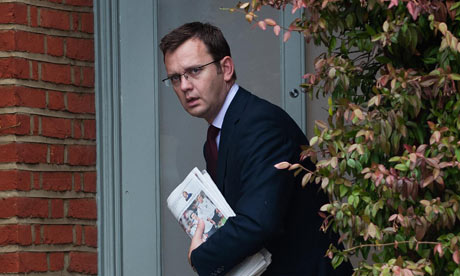 Andy Coulson listened to the intercepted voicemail messages of public figures when he edited the News of the World, a senior journalist who worked alongside him has alleged. Photograph: Ki Price
The prime minister's media adviser, Andy Coulson, personally listened to the intercepted voicemail messages of public figures when he edited the News of the World, a senior journalist who worked alongside him has said.

Coulson has always denied knowing about any illegal activity by the journalists who worked for him, but an unidentified former editor from the paper told Channel Four Dispatches that Coulson not only knew his reporters were using intercepted voicemail but was also personally involved.

"Sometimes, they would say: 'We've got a recording' and Andy would say: 'OK, bring it into my office and play it to me' or 'Bring me, email me a transcript of it'," the journalist said.

The claim, due to be broadcast tomorrow night, goes beyond earlier statements by Coulson's former colleagues.
Comment: I wonder if there will be a last minute super injunction?