Prison population predicted to hit record 88,500 by 2016
Rise tempered by figures showing underlying slowdown in growth which questions plan for massive prison building plan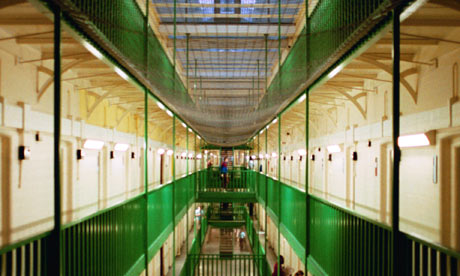 The prison population in England and Wales is predicted to rise by a further 3,500 to a record 88,500 by 2016 unless there are major changes in sentencing policy, according to new Ministry of Justice projections published today .

The official estimates show that even if Ken Clarke's promised "rehabilitation revolution" succeeds in persuading the courts to adopt a less punitive sentencing policy it is unlikely to cut the current 85,115 prison population by any more than 2,000.

The annual prison population projections show that an even more punitive approach, encouraged perhaps by tougher "law and order" justice and home secretaries, could push the jail population up to 93,600 by 2016.
Has Alan Travis been nobbled by the MoJ?
From this Prison population predicted to hit record 88,500 by 2016
to this...
Prison-building programme in doubt as jail population levels off

Ministry of Justice figures predict small rise in numbers and little impact for Ken Clarke's 'rehabilitation revolution'